Six Reasons Why You Should Translate Your Law Firm's Website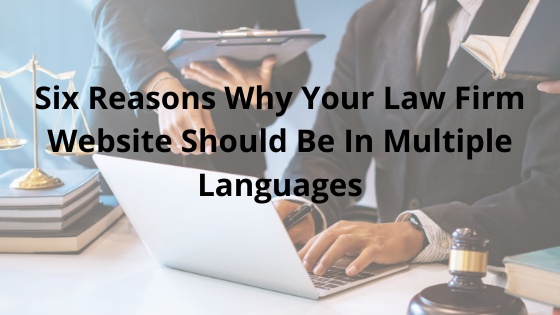 10th, June, 2020
Did you know that more than one-fifth of Australians speak a language other than English at home, with more than 300 separately identified languages spoken throughout the country? It's no surprise, then, that more and more Australian businesses are also targeting clients from non-English speaking countries.
As an Australian law firm, your focus might be on what you can be doing to serve these potential clients. Here we look at the importance of website translation and localization, refining marketing methods to target particular geographic regions. Specifically, we consider:
Six reasons why you should translate your law firm's website
And;
Five factors to consider when choosing to translate your law firm's website
Why should you translate your law firm's website into multiple languages?
Client need: As mentioned, for many Australians in need of legal assistance English may not be their first language. You can ensure they feel comfortable and more comprehensively understand the contents of your website and the services you offer if you provide the information in their first language.
Localisation: You may wish to focus your firm's marketing efforts on a particular geographical location where English is not as commonly spoken. For example, you may specialise in immigration issues and wish to target clients from a specific country. Web analytics data might be useful for revealing whether many of your site visitors are from particular geographical areas.
Conversion: Individuals are more likely to spend a greater amount of time on a website if it is in their first language. In fact, they are also more likely to actually purchase something too. In one study, 72% of customers revealed they were more likely to buy the product if the information they reviewed was in their own language. One would expect a similar statistic to apply to prospective clients signing up with a law firm.
Competitive advantage: We live in an anglo-centric world. As a consequence, few of your competitors may have considered the myriad benefits of translation. Therefore, by taking this step, you can gain the advantage of demonstrating your firm's inclusivity and heightened cultural awareness in comparison, enabling you to resonate effectively with your target clientele.
Compliance: Sometimes legal and compliance requirements may mean you are obligated to have translations on your website. For example, recital 39 of the General Data Protection Regulation (GDPR) requires that "information and communication relating to the processing of those personal data be easily accessible and easy to understand". This has been interpreted as a requirement that you provide your website privacy policy in the target language if serving clients in Europe.
Search Engine Optimisation (SEO): As your Google ranking is significantly determined by your popularity, it is to your advantage to ensure your website is accessible in multiple languages. The more languages you offer on your website, the greater your traffic will be, furthering your firm's exposure.
What do I need to think about when translating my law firm's website?
Once you have decided to translate your web content into at least one other language, there are a range of factors you need to consider:
Professional translation: Using machine translations or Google translate for your website is incredibly risky. For example, in the run-up to the democratic primary elections in the USA, Senator Elizabeth Warren's website appeared to use machine translation. This resulted in numerous errors such as "I'm not sure yet" being translated from English to Spanish as "En realidad, no estoy en, y he aquí por qué". This translates to, "In reality, I am not on, and have here for what." This is not just embarrassing for your firm, but professional translation is also essential to avoid legal and professional risks. A poor translation can mislead existing clients and potential clients about the law.
SEO keywords in the target language: When working out how to structure your content in another language, you can't simply use your target keywords from English, translated, as many words cannot be directly translated. You will need to carry out your SEO analysis in the target language itself.
Google's ranking algorithm punishes websites for duplicate content: Therefore, when creating content in multiple languages, websites need to use the 'hreflang tag', to ensure that Google does not punish the site in rankings.
Web architecture: Consider, for example, whether you are going to use multiple domains (e.g., '.com.au' for English and. '.de' for German), or multiple sub-folders (e.g. '.com.au/en' for English and '.com.au/de' for German). There are advantages and disadvantages to both, with the domain approach generally being preferable if you need a strong local presence in a particular country.
Choice of material: This very much relates to the previous point regarding website architecture. Depending on the importance of the target language, you need to consider how much of the firm's website to have translated. Translating blog content may be more helpful for SEO purposes, whereas translating any informational 'copy' pages might be more effective at actually gaining a new client following their perusal of your website
Conclusion
All Australian law firms may like to consider the advantages of translating at least some aspects of their website. You should likewise take into account that the responsibility of a law firm, as a provider of legal information, is to ensure that clients with another first language besides English should not be disadvantaged by this fact.
But it is also a question of firm marketing: How can you better target potential clients who speak other languages, and increase the chances that they make you their law firm of choice?
If you believe that a professional translation for your firm's website would be beneficial, make sure to reach out to us here to discover how Linguistico can be of assistance.