3 Key Reasons to Translate for Your Multicultural Audience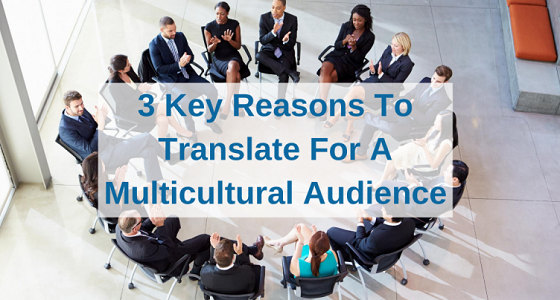 13th, August, 2020
Why You Must Consider Your Multicultural Audience for the translation of your important resources and documentation
Did you know that roughly 1 in 4 people in Australia is likely to be born overseas? With a rich history of immigration, Australia remains one of the world's most culturally diverse nations, with nearly half the population consisting of first- and second-generation Australians.
Australia's flourishing multicultural society means both private and public sector agencies will have to contend with the evolving cultural landscape and makeup of their audiences. Taking into account Australia's robust diversification trends, here we outline 3 key reasons to cater your important material to a multicultural audience, and why the time to invest in breaking linguistic barriers is now.
#1 INCREASE IN 1ST AND 2ND GENERATION AUSTRALIANS
Approximately 49% of the Australian population were either born overseas or had one or both parents that were born outside of the country. As a whole, Australians now comprise of people from over 190 countries, with the proportion of the Australian population born in China and India increasing to 8.3% and 7.4% respectively in 2016. In fact, 20.8% of consensus respondents in 2016 reported speaking a language other than English at home with the top 10 being:
1  Mandarin
2. Arabic
3. Cantonese
4. Vietnamese
5. Italian
6. Greek
7. Filipino/Tagalog
8. Hindi
9. Spanish
10. Punjabi
Cultural diversity shifts in populations can have serious implications in terms of community participation, civic engagement, and access to essential services. For instance, a recent General Practitioner study showed that 16.2% of patients reported speaking a language other than English at home, with 5% of all General Practitioner consultations conducted in a language other than English.
As we move towards even greater cultural diversity, it's therefore important to have high-quality solutions and meaningful approaches in place to support Australian residents who communicate in a language other than English.
#2 MULTICULTURAL LABOUR FORCE
Australia represents one of the most skilled multicultural labour forces in the world. In 2019 alone, 1.9 million people classified as recent migrants or temporary residents, of which 68% were employed with a labour force participation rate of 72%. Additionally, Australians themselves identify with over 300 distinguished ancestries, with the five most commonly reported countries of birth for first-generation Australians being:
1. England (14.7%)
2. New Zealand (8.4%)
3. China (8.3%)
4. India (7.4%)
5. Philippines (3.8%)
As globalisation spurs migration flows along with economic growth, businesses can expect to see more workforce diversity, attracting a combination of both global and local talent who demonstrate a broad range of ancestries and languages. Investing in solutions like translation or interpretation services, to anticipate and address the needs of your multi-cultural workforce, can help ensure your essential workflows and processes are well-communicated.
#3 GROWTH IN OVERSEAS STUDENT ENROLMENT
As one of Australia's main economic exports, international education remains a key immigration draw and magnet for increased cultural diversity. Higher education enrolments have displayed a consistently upward trend since 2008, growing by 11.1% in 2018-19, with commencements increasing by 7.9% for the same time period.
In line with migration trends, the top two source countries for enrolments in the higher education sector were China (37.3%) and India (20.5%). The Department of Education's Higher Education Statistics reports the top 5 languages other than English spoken at home for students as:
1. Chinese Dialect (Mandarin, Cantonese, etc.)
2. Vietnamese
3. Arabic
4. Korean
5. Hindi
As overseas student enrolment grows and demand increases, it's important for educational institutions and agencies to also be able to effectively communicate critical information – whether it's academically, financially, or immigration-related, to parents and students. Linguistic barriers have long been identified as a serious challenge to engagement and participation in education for parents and students alike, and developing an approach that takes into account the language and socio-cultural needs of Australia's increasingly diverse education sector is a critical component for success.
So how can Linguistico help?
Our many years of experience in the Australian market means we're the first choice for many Australian government departments, educational institutions, commercial businesses and healthcare organisations when they need to assist people with limited English have access to vital information in a form they can clearly and simply understand.
We have helped produce translations of important resources and documentation using experienced, NAATI certified translators – not machines – to ensure world-class quality translations written precisely for your audience. More importantly, our human translators bring their extensive cultural and linguistic understanding to your translation, ensuring all information is conveyed clearly and accurately.
Some examples of previous Government projects we have worked on include:
A project for the Department of Education, Employment and Workplace Relations (DEEWR) in which we translated, edited and back-translated 5 x factsheets (containing approximately 2,500 words in total) for two nationally delivered foundation skills programs being AMEP and SEE from English into 38 languages.
A project for the Australian Law Reform Commission (ALRC) in which we translated an article on 'Elder Abuse and Law Reform' (containing approximately 400 words) from English into 22 languages.
Some examples of previous healthcare projects we have worked on include:
Translation, back-translation, and typesetting of a patient information booklet, enrolment form and re-order form containing over 7,500 words in total, for an oncology product from English into Arabic, Simplified Chinese and Vietnamese for an Australian multicultural audience.
Translation and typesetting of an information pack consisting of an action plan, patient information booklet, consumer medicine information leaflet and wallet containing over 12,000 words in total, for an asthma product from English into nine languages for an Australian multicultural audience.
The above examples may give you an idea of the breadth of translation possibilities and the importance of facilitating these services for your own business.
Is your important resources and documentation reaching all of your intended audience?
Conclusion
With migrants contributing over $112 billion in total income and overseas students injecting roughly $32 billion to the economy in 2016-17 alone, immigration remains a vital economic contributor to the country. In short, cultural diversification is here to stay.
Studies repeatedly show that linguistic barriers have significant implications on key areas like work, health, and education. Ensuring that you have the right measures in place to connect with your culturally diverse audience is essential to cultivating engagement and encouraging participation.
If you wish to facilitate the translation of your own important documents or need assistance with community relations commission translation, please don't hesitate to contact us. Linguistico is here to give you the confidence that your translations are both accurate and effective, serving your audience in the best and most appropriate manner possible.